tale-go , Is there any time to tell and listen to stories? Maybe it would have happened. Or would it not happen. But one thing definitely happens. Tales, stories are interesting to everyone. It would be better if they were present on time. If it is not, it is of the past, even then it is not bad. Because they always go not only by telling us something, but also by teaching. Brings back memories of our times. Even after sweetening the spices of the serious ones, they drink it softly. That's why 'Dastaan-Go' has started, the process of bringing interesting stories to your loved ones. Will try to continue this process. Monday to Friday, everyday…
,
Sir, If you have spent your childhood in two-four tens of late 1970's tens or after that, then just remember. How did the time pass? Especially the holidays? Then whether it is summer or winter? The answer will be almost the same for everyone. That first, he used to play different types of games outside the house throughout the day. Like- gilli-danda, kite-flying, kabaddi, ball-guppy, gutte, lame leg, eye-twitch, asht-changa, snake-ladder, ludo, marbles, hide-and-seek, carrom, cricket, kho-kho, etc. And when you get tired, bored by playing these old games that have been going on for years, then a new way to spend time would come in handy. Comics, in whose hands the time does not pass, used to be in a hurry. didn't you remember? I don't know from where, with so much effort, comics were brought by jugaad. And then sometimes secretly and sometimes Sir-e-'Aam would be enjoyed by them.
This Sir-e-Mango and the issue of secretly reading comics also became interesting. In fact, when the era of comics came in India, almost all the stories and characters in them were foreign. And the simple parents of small towns and cities did not want their children to deal with them. However, the children remained children, where did they go to believe? But sir, there came a time when this problem of these children and their parents subsided. Slowly it came to an end. It started from the year 1969. At that time a magazine for children used to come, 'Lot-Pot'. Here in Delhi, a cartoonist joined him. Pran Kumar Sharma. Earlier he used to work for 'Milap' newspaper. He made a famous cartoon character in it. 'Dabbu ji', through which he used to comment on all the important political, social events of the country in the cartoon-corner of the newspaper.
Due to this fame and ability of Pran-saheb, the publishers of 'Lot-Pot' magazine had associated him with them. And man, see what amazing he did in that too. In the villages of Punjab, Haryana, 'Chowdhary' with a big mustache, humming hookah on the chaupal, was made a cartoon. 'Chacha-Chowdhary'. Then he blew 'Prana' in those 'Chacha-Chowdhary' according to his name. Wrote stories related to mukhtalif masail (problems) faced daily in common life. For example- theft, robbery, kidnapping, pickpocketing etc. The task of solving these problems was entrusted to his cartoon character 'Chacha-Chowdhary'. And 'Uncle' would also solve the problem so fast that it was soon said, 'Uncle-Chowdhary's mind runs faster than a computer'. Why not, what was his 'life in his mind'. So sir, as soon as the character of 'Chacha-Chowdhary' came out, the atmosphere changed again.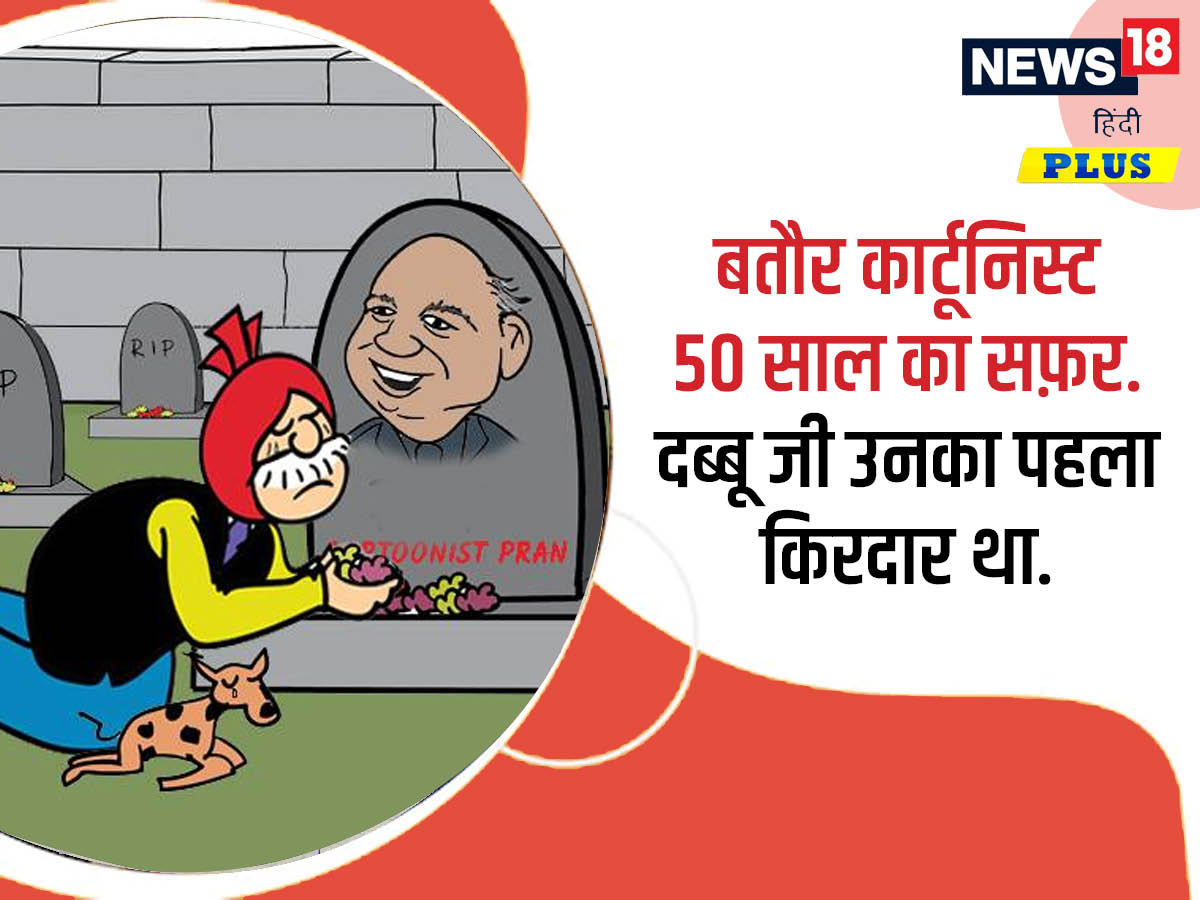 Now the army of 'Lot-Pot' magazine fans started rising in small towns and cities of India. In this, there were only two-three pages of the story related to 'Chacha-Chowdhary'. Still, the children used to wait for its arrival in a state of restlessness. His parents also had no objection to this. In the meantime, sir, another incident happened. This is from around 1981. So far another character was associated with 'Chacha-Chowdhary', 'Sabu'. Big chunk. High – full. Big face. It was said about him that 'when Sabu gets angry, volcanoes start erupting'. Where 'Chacha-Chowdhary' needed to 'know whereabouts' of a crook, 'Sabu' came in handy for him. The pair of both froze. So sir, Gulshan Rai, the owner of 'Diamond Pocket Books', was well aware of his fame. So he contacted Pran-sahib.
Gulshan Rai's offer was that instead of two-three pages, why not start a whole magazine containing the stories of 'Chacha-Chowdhary' and 'Sabu'. This offer went well with Pran-sahib and thus the comics of 'Chacha-Chowdhary' started coming from Diamond Pocket Books. What started these comics, the lottery for the children of India has opened. Till now foreign cartoon characters like 'Phantom' and 'Superman' used to be his favourite. But 'Chacha-Chowdhary' and 'Sabu' left them all. Now both of these have become the secret in the children's shelves. Along with this, comics of 'Chacha-Chowdhary' were seen adorned in book shops and roadside shops. Children who could afford them would have bought them. But for those who could not buy, special convenience. To give comics on rent. Due to this many unemployed people earned their livelihood.
At that time, he used to charge 25 paise as rent, to keep comics close for 24 hours. The interesting thing is that during this time at least four-five children would read a comic together. If brought by rent, leaving the rest of the business, only 40-50 pages of new comics would have been settled first. Within two or three hours. So that by giving it to another partner, another one can be obtained from him. Because he used to bring comics with some other story with his own money. In this way, four-five comics would be enjoyed alternately in 24 hours for a rent of 25 paise. In this affair, he would also enjoy beating many times. Because the parents were now worried that their children should not get away from studies due to comics. But sir, no one got away from the addiction of comics even after eating thrashing. Perhaps, the effect of this was that the clan of 'Chacha-Chowdhary' also increased again.
Pran-sahib added Billu to the clan of 'Chacha-Chowdhary'. Cricket had its value, but the hair was always standing. Similarly, 'Mrs.', who used to have quarrels with her husband. Like typical Indian homes. and 'Chani Chachi'. Like usually the aunts of the village. Like him, 'Pinky' and 'Raman' too. Each character is his own, in his middle. Unlike the foreign 'Phantom' and 'Superman', these characters of Pran-Saheb did not have unique powers. Still, there used to be so much power that once you got hold of them, you could not get rid of them. However, 'Chacha-Chowdhary' undoubtedly became the 'king' of all these characters. That too in such a way that even outside the borders of India, they were discussed. It is said that in the International Museum of Cartoon Art of America, 'Chacha-Chowdhary' has got a place in the status of being one of the world's famous cartoons.
Not only this, a serial has also been made on the stories of 'Chacha-Chowdhary'. Actor Raghubir Yadav, who has 'Mungeri Lal Ke Haseen Sapne', has played the character of 'Chacha-Chowdhary' in it. It came on TV in the year 2001. Apart from this, animation film has also been made. Like Tom-and-Jerry. Another famous character of Pran-saheb, 'Raman', had also directly reached the then Prime Minister Indira Gandhi in the year 1983. It is said that at that time Indira Gandhi had released the series of Pran-Saheb, 'Raman – We are Ek Hain'. It was based on national unity. In this way, this was the journey of more than 50 years of Pran-saheb. And that journey came to an end on the same date, in the year 2014, when the souls of Pran-saheb left the body. Although by then he had written more than 500 comics. More than 25 thousand comic features were made in 10 languages ​​including English, Hindi, Bengali.
It is said that the work that Walter (Walt) Elias Disney did for the cartoon world in the western countries, the same has been recorded in the account of Pran-saheb in India. That is why he is also called 'Walt Disney of India'. The interesting thing is that along with these two unique coincidences of dates and months are also associated. For example- Pran-saheb was born on 15 August 1938 in Kasur, a town near Lahore. Whereas on the fifth of August, he left this world. Similarly, Walt Disney was born on December 5 (1901). At the same time, on the 15th of December (1966), he said goodbye to this world. Now these coincidences would not have happened just like that. Because there is one more thing beyond this that after the departure of Walt Disney, no one has been able to replace him in the West till date. Similarly, no one could take the place of Pran-saheb and his characters in Hindustan.
Famous cartoonist Sudhir Tailang also said once, 'Many cartoons were later made to compete with the cartoon-characters of Pran-saheb. For example, Chotu-Lambu, Motu-Patlu, etc. But no one could compete with Pran-saheb and his uncle-choudhary. However, now it is possible, sir, that 'Uncle-Chowdhary's mind should not run faster than the computer' because the 'life' that has gone out of it.
Be the first to read breaking news in Hindi News18 Hindi | Today's latest news, live news updates, read the most reliable Hindi news website News18 Hindi |
Tags: cartoons, death anniversary special, Hindi news, News18 Hindi Originals
FIRST PUBLISHED : August 05, 2022, 13:58 IST